Tesla Sued Again In Texas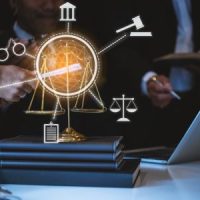 Tesla has once again been sued in Texas. The car manufacturer has faced multiple lawsuits in the past, and most of these controversies revolve around the company's infamous "Autopilot" technology. Although self-driving cars are undeniably the way of the future, many questions have been raised about the viability of this technology. Even greater questions are raised when people are harmed. And when no less than five police officers in Texas are struck by a Tesla vehicle on Autopilot mode, a lawsuit becomes inevitable.
Tesla will need to tread very carefully as they approach this lawsuit. With so many safety concerns about its self-driving technology, one has to wonder whether they can realistically continue to sell these kinds of products in the future. Of course, they can avoid all potential consequences by simply hiring a team of qualified, experienced corporate defense attorneys in Texas. If they can avoid liability, then they can continue selling their vehicles without much of an issue.
Five Cops Injured By Rogue Tesla in Splendora  
On February 27th of 2021, five police officers were injured by a Model X SUV in Splendora, a small town in Montgomery County. These officers were dealing with a routine traffic stop when they saw the Tesla vehicle approaching on the freeway. The vehicle was in Autopilot mode, and it seemed to completely disregard the presence of the police officers. All five were struck, and all five were badly injured. It later emerged that the driver of the vehicle was intoxicated at the time of the crash.
The Lawsuit Alleges Negligence by Tesla  
The lawsuit alleges that Tesla has been intentionally unwilling to correct clear and obvious issues with its Autopilot feature. The injured police officers are suing the company for design and manufacturing defects, and they are also suing a local restaurant for serving the driver too much alcohol prior to the crash. The lawsuit also highlights various tweets by CEO Elon Musk that seem to downplay past lawsuits and safety concerns raised over the self-driving technology. In many cases, the CEO seems to have laid the blame on the drivers, claiming that they are not using the technology properly.
There Have Been Many Crashes  
Tesla has dealt with many lawsuits over the past few years, and many of these lawsuits involve the Autopilot feature in some way. Exploding batteries are also a concern. The National Traffic Safety Administration has reported at least 12 crashes involving Tesla owners have crashed into stationary vehicles while using the Autopilot feature. This has resulted in one fatality and 17 injuries.
Enlist the Help of a Qualified Defense Team Today  
If you are facing a corporate lawsuit, it makes sense to team up with a team of qualified, experienced Brownsville commercial litigation attorneys. Choose attorneys with specific experience in corporate defense, and you can approach this difficult situation in a confident, efficient manner. It's also important to work with attorneys who have experience with local laws and regulations in Texas. Reach out to Colvin, Saenz, Rodriguez & Kennamer, L.L.P. at your earliest convenience, and we can guide you to a positive legal outcome. We offer corporate defense services in Texas, so book your consultation today.
Resources:
ca.news.yahoo.com/its-time-to-notice-teslas-autopilot-death-toll-195849408.html
theverge.com/2021/9/28/22698388/tesla-texas-lawsuit-cops-autopilot-crash-injury