Independent Insurance for Nursing Home Employees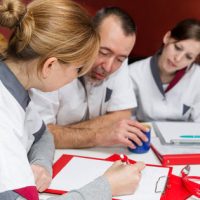 Independent contractor, employee, or private practitioner? When any healthcare provider decides to take on a new relationship with a healthcare facility, such as a hospital or nursing home, this question immediately comes up. What will the nature of the relationship actually be? Will the professional be covered by the employer's insurance? Will there be a clearly outlined distinction that makes it known the healthcare professional is in no way affiliated with the facility? Will that help to avoid litigation if someone decides to bring a lawsuit?
In south Texas, nursing homes are always a frequent target of lawsuits. And the employees and contracted healthcare professionals who perform services in these facilities are also frequently brought into lawsuits as additional defendants or respondents in discovery. Therefore, it's worth taking a moment to ask the important question: do you need private malpractice insurance? Here's what you should know. If you need more detailed information, you should contact a professional negligence lawyer near you.
Contractor or Employee?  
The first question is whether you are indeed a contractor. While your contract may say so, and while you may be paid on a 1099, this is not what courts look to in order to determine your status. Instead, Texas law looks to the totality of the circumstances to determine whether you can be held jointly liable for the negligent actions of others, including the facility. Some elements that are considered include:
The degree of skill that you must have to do your job
The degree to which the facility exerts authority and control over your daily tasks
Who provides the equipment?
Who provides the resources?
Whether you pay your own staff and have your own separate corporation or LLC
There are plenty of other issues that can weigh into the determination, but in general, if you are a nurse practitioner or physician and see patients in a nursing home, it is critical that you do so through a separate company with a separate tax ID number. Further, your company should maintain malpractice coverage on all employees.
Those Who Work Outside of Separate Corporate Protections  
Consider for a moment what happens if you are a physician or nurse practitioner who treats nursing home patients on a private basis, and you do not work through an agency or separate corporation. In this instance, residents and their families may reasonably believe you work for the nursing home. Therefore, you might be more likely to get roped into a lawsuit.
Why Private Providers Are Sued  
In general, under Sec. 242.151 of the Texas Health and Safety Code, all nursing homes are required to have a medical director who is a licensed physician. There is no requirement that the physician be employed by the facility. In many cases, the medical director can supervise the work of several nurse practitioners who expand the physician's availability to serve more facilities and residents  – especially in rural areas.
So, when an injury occurs in the nursing home, plaintiffs tend to bring the lawsuit against everyone who may have some interaction with the resident – even if just very briefly. In these situations, private providers may get dragged into depositions, brought before the court, and even have to defend all the way to trial, despite having very little to do with the negligence. It is often done to create leverage or to get the provider to turn on the facility.
For these reasons, it is critical to carry separate insurance, even if the nursing home claims you are covered. At Colvin, Saenz, Rodriguez & Kennamer, L.L.P., our Brownsville insurance defense attorneys are ready to help you and your private practice make better pre-claims decisions. And in the event you are brought into a civil action, our litigation team can fight to protect everything you've worked so hard to build. Give us a call or visit us online now.
Resource:
statutes.capitol.texas.gov/Docs/HS/htm/HS.242.htm