Divorce Requests Surge During the Coronavirus: What You Can Do During This Time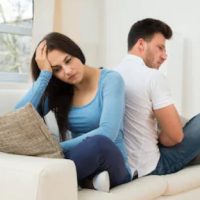 There is no question that the coronavirus has presented individuals and families with a number of challenges, especially when it comes to family law issues. Not only are some already-divorced parents running into significant new child custody challenges in trying to figure out best to honor their visitation schedules while also keeping their children safe from exposure, but a number of couples being cooped up together has many also realizing that divorce is the only option they have to move forward with their lives.
In some circumstances, financial stress has also led to this conclusion, especially given the number of people who have lost their jobs and/or their net worth due to the virus and its effect on the workplace and market. And for those who are only separated but not yet divorced, other challenges have also arisen, sometimes related to sharing children and concerns over them during the pandemic. For those in the throes of a divorce, a long quarantine might be nothing short of a nightmare.
If You Are in an Abusive Marriage, There Is Still Help Available During This Time
Victims of abuse are in a compromised position due to the virus, with reports of domestic violence up and opportunities to receive assistance from families, friends, and hospitals compromised due to risk of exposure. For those in an abusive marriage, it is important to realize that there is still help available, in spite of the pandemic. Some domestic violence shelters are remaining open during this time to provide victims with assistance. In addition, family law attorneys can also assist you, not only in obtaining a divorce, but also in obtaining a protective order. Even in the midst of a pandemic, courts can order abusers to move out of the home.
If You Need a Divorce, Start Preparing with an Attorney Now
In terms of the general population seeking divorces, it is important for everyone to understand that while technically no one can file for divorce right now because the courts are essentially closed, and some judges are only making themselves available for emergencies, such as protective orders in domestic violence cases, it is still important to start working with a family attorney now so that you are prepared and do not suffer from repercussions due to the inevitable backlog once that the courts reopen. For example, because the value of one's assets are set in stone on the day that their divorce is filed, if you have significant assets in the form of stocks, for example, you may have an interest in filing quickly once that the courts reopen so that the value of those assets do not have a chance to rebound post-virus. Or perhaps if one parent has lost their job, they will want to spend this time to strategize with their attorney on how to preemptively address child support payment issues with the court before those payments are finalized. It is the job of your attorney to help figure out how this time can be used creatively to come up with effective solutions to relieve some of the burden.
Topics to Cover with Your Attorney
Some specific suggestions regarding how you can use this time productively include the following:
Discussing a realistic timeline with your attorney, given the effect the pandemic has had on the courts
Discussing what effect this will have on your financial settlement and any settlement proposals, as well as whether they will need to be re-negotiated
Figuring out whether you planned to keep the family home or not was already a difficult decision, and the pandemic only made that more complicated, given that the housing market is now experiencing a temporary freeze. As a result, you will likely need to put more research and planning into this decision; possibly even refinancing at a lower rate; as well as obtaining a new home appraisal
Making sure that you have adequately planned how you will cover living expenses during and after your divorce, and update your financial documents accordingly
Discussing with your attorney whether your co-parenting plans need to be revisited in order to ensure stability for your children during the pandemic
Contact Our Brownsville, Texas Family Law Attorneys for Help Today
The Brownsville family attorneys of Colvin, Saenz, Rodriguez & Kennamer, L.L.P. practice extensively in family law throughout the Rio Grande Valley. Contact our offices in Brownsville or Edinburg today to find out how we can provide you with assistance during this time.
Resources:
forbes.com/sites/heatherlocus/2020/04/01/6-ways-the-coronavirus-can-infect-your-divorce–and-simple-steps-to-protect-yourself/#68eb17102b65
nhagainstabuse.org/news/service-and-program-changes-due-to-covid-19/
nypost.com/2020/04/03/sick-of-you-lawyers-see-coronavirus-divorce-uptick/
https://www.rcclaw.com/figuring-out-custody-issues-when-two-parents-are-unmarried/