Addressing Dissipation of Marital Assets in Divorce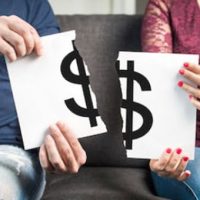 For a number of couples, a pending divorce will unfortunately fail to be amicable, and instead end up being complicated, especially if it involves a battle over finances. In some of these cases, dissipation of assets becomes an issue, whereby some people start to engage in excessive spending on extravagances, such as providing large gifts to friends, or taking out loans without their spouse knowing, perhaps in order to deny the other spouse as many assets as possible, or to be able to claim that their financial needs are higher.
While dissipating marital property is illegal under Texas law, you will need to seek assistance from an attorney if you have concerns that your spouse is engaging in excessive spending, or if you have been accused of dissipation of marital assets. This is because, as we discuss below, the definition of dissipation is broad and thus leaves a significant amount of discretion to the courts.
Proving or Defending Against Dissipation
The definition of dissipation involves one spouse using marital property for their own benefit, when the marriage is undergoing an irreconcilable breakdown. This definition is both lacking in detail and arguably overly broad, leaving a significant amount of room for a couple to engage in arguing over what was a legitimate expenditure versus what was questionable. The party alleging dissipation must prove that expenditures made were illegitimate, and the burden then shifts to the other party to prove that they were legitimate.
Due to the broad definition of dissipation, parties will also often disagree about when exactly the marriage started undergoing an irreconcilable breakdown, as dissipation can only occur during this timeframe and, as a result, if, for example, the party defending themselves against a claim of dissipation can prove that the expenditure was made long before the marriage underwent an irreconcilable breakdown, it usually does not count as dissipation. For example, if one spouse engaged in a particular activity regularly for 10 years before the couple filed for divorce, the chances are that a judge won't find dissipation.
Ultimately, the courts have a substantial amount of discretion in answering these questions, and will look at what exactly occurred in the marriage and when, including to what extent the couple held themselves out as a couple to others, engaged in marital relations, shared a bedroom, took vacations together, etc. to determine whether dissipation occurred.
Filing for A Temporary Restraining Order
Under Texas law, when a couple files for divorce, if one side files a motion to do so, the court can enter a temporary order enjoining the other party from dissipating or transferring property awarded to the filing party after notice and hearing if it necessary for the preservation of the property and protection of the party. In addition, in Texas, a spouse can sue for the protection of their property rights (including both separate and community property) without/before obtaining the divorce. However, it can still be difficult to challenge the financial transactions of the other spouse unless they blatantly engage in purchasing gifts out of the blue, or engaging in transactions that appear to be bereft of any kind of benefit to them, especially if they are wasting community property under their separate control.
Work with The Best in Texas Divorce Law
Divorce can have a significant impact on an individual's finances for years to come such that you want to ensure that you enlist the assistance of an experienced divorce attorney who has a solid background in litigation and who will negotiate aggressively for your needs, especially if you suspect that dissipation may be involved. The Brownsville family attorneys of Colvin, Saenz, Rodriguez & Kennamer, L.L.P. provide the strong, focused representation that our Texas clients need when they are undergoing divorce. Contact us today to find out more about our services.
Resource:
cdn.ymaws.com/aaml.org/resource/collection/E659E002-5E35-4307-85CF-8E5195110F36/dissipation_of_marital_assets-comments-20-1.pdf
https://www.rcclaw.com/divorce-can-significantly-impact-your-business-unless-you-act/