Addressing Insurance Fraud After Hurricane Nicholas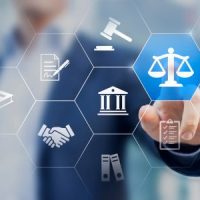 We all know that Tropical Storm Nicholas has damaged many homes and affected the lives of many innocent people. Many people filing homeowners' insurance claims after this disaster are entitled to a fair, adequate settlement. Unfortunately, there are always those who use natural disasters as an excuse to commit fraud. Insurance companies are the first line of defense against this fraud, and they must be vigilant in detecting possible signs of fraudulent activity. By fighting disaster fraud, insurance companies can ensure that the money goes where it's needed most: into the hands of people who have suffered legitimate damages.
Insurance companies who want to address disaster fraud in the most effective manner possible must rely on qualified, experienced insurance defense attorneys. Many of these insurance companies operate on a national or even international scale, so it makes sense to get help from a defense team on the ground who understands local laws and regulations. With help from a Texas-based legal team, insurance fraud becomes much easier to spot and address.
How Much Damage Did Tropical Storm Nicholas Cause in Texas?  
The main threat posed by Tropical Storm Nicholas seems to be flooding, although the storm also brought strong winds. After making landfall on the coast, the hurricane moved inland and drenched the region with more than 30 centimeters of rain. Many homes lost power, and some roofs were blown away. Galveston saw 35 centimeters of rain, and some windows were shattered due to wind. However, this storm was not as bad as Hurricane Harvey.
Examples of Disaster Fraud  
In 2021, it was reported that a Port Arthur man had pleaded guilty to hurricane-related fraud. After Hurricane Harvey, this individual applied for financial relief from FEMA, claiming that he owned a home in Port Arthur that had been damaged. However, he did not actually own the home, and the actual residents of the dwelling were denied financial assistance from FEMA when they applied. The penalty for such an offense can be as high as 30 years in prison.
In another report, the Department of Justice announced that six Houston residents had been charged with disaster fraud in the wake of Hurricane Harvey. Many of these individuals claimed that they had suffered property damage due to the hurricane when really their property was untouched.
These examples show that there are plenty of people out there who will try to claim property damage when their homes are actually untouched. This is definitely something to be aware of as insurance companies face an inevitable wave of insurance claims following Tropical Storm Nicholas and any other major weather event that may follow.
Enlist the Help of a Qualified Attorney Today  
For help from a skilled Brownsville insurance defense attorney, contact Colvin, Saenz, Rodriguez & Kennamer, L.L.P. We have considerable experience in insurance defense, and we can help your organization fight against illegitimate claims, fraud, and other issues in the wake of Tropical Storm Nicholas. While it's true that plenty of innocent families out there deserve settlements, this doesn't give individuals the right to defraud insurance companies. Reach out today, and we can help your organization approach this situation in the most efficient way possible.
Resources:
justice.gov/usao-sdtx/pr/five-charged-fraud-schemes-linked-hurricane-harvey
justice.gov/usao-edtx/pr/jefferson-county-man-guilty-fema-fraud-related-hurricane-harvey
cbc.ca/news/world/hurricane-nicholas-landfall-texas-1.6174794