U.S. Supreme Court Makes Landmark—and Long Overdue—Copyright Infringement Decision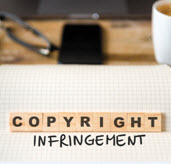 On March 4, the U.S. Supreme Court made a landmark decision finally bringing copyright law in line with patent and trademark law. Specifically, the Court ruled that, in order for a business or other part to sue for copyright infringement, the copyright owner must have their Federal Copyright Registration in possession, i.e. completed.  Until now, copyright owners could sue in some federal district courts as long as they had a pending copyright registration, leading to inconsistent case law in terms of which cases were "ripe" for review.
The Issue In Question
The question at issue in this case was when, exactly, registration occurs when it comes to copyright law. While the plaintiff argued that it occurs when the copyright owner submits the application for registration, the defendant argued that it is only when the Copyright Office grants the registration.
There Are Some Exceptions
Based upon the decision of the Court, Copyright owners do not have official "standing" to sue unless the Copyright Office has taken official, final action on that registration. The Court came to this decision by reading the plain language of the statute, which refers to the Copyright Office's role in copyright claim litigation via registering or refusing to register a copyright claim. The Court also noted that Congress took specific action in making revisions to the Copyright Act in 1976 in an effort to reaffirm the general rule that registration must precedent an infringement lawsuit.
However, the Court also noted an exception for some limited circumstances under which copyright owners could file an infringement lawsuit before even undertaking registration, such as when the work is vulnerable to "predistribution infringement" (for example, musical compositions, live broadcasts, etc.).
Copyright Owners Still "Own" Upon Creation
The Court also noted that this decision does not affect the ability for the copyright owner to recover damages for any copyright infringement that occurs prior to registration being finalized. This is because copyright owners officially have the "right" to their work as soon as it is created under the Copyright Act (unlike those laws applicable to both patents and trademarks). It is simply the initiation of the lawsuit itself that must wait until the Certificate of Registration is complete because "registration is akin to an administrative exhaustion requirement."
This decision is not expected to trigger any statute of limitations issues, as the registration process tends to be complete well under any statutes of limitations that apply to initiating copyright infringement lawsuits.
Contact Our Texas Commercial Litigation Attorneys to Find Out More
Our Brownsville, Texas commercial litigation attorneys have provided strategic commercial litigation for companies across all sizes in copyright infringement litigation. Contact us today at Colvin, Saenz, Rodriguez & Kennamer, L.L.P. to find out more about the decision and/or our legal services in this area.
Resources:
supremecourt.gov/opinions/18pdf/17-571_e29f.pdf
law.cornell.edu/uscode/text/17/411
natlawreview.com/article/unanimous-supreme-court-decides-if-your-copyright-registration-application-still
https://www.rcclaw.com/a-look-at-past-future-labor-and-employment-law-disputes/