Breach of Contract, Morals Clauses, and Tortious Interference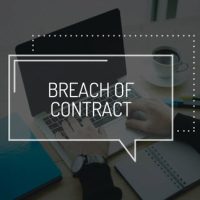 Breach of contract and tortious interference with business relationships are two issues that often accompany each other, particularly when it comes to business contracts. Take, for example, Spotify's new conduct policies for curated playlists, which could potentially lead to some legal issues with various record companies.
Pursuant to the company's new "hate content and hateful conduct" policy, a number of "controversial" artists were removed from the service's playlists, igniting a number of legal concerns. Spotify reportedly broke contract ties with these artists due to recent charges and allegations in association with the #metoo movement.
Morals Clauses & Criminal Convictions
When it comes to breaking contracts like these and severe legal and monetary consequences, what matters is whether the contract has what's known as a "morals" clause, which typically allows for a company to walk away in the event that the artist in question does something that casts the company in a bad light.
However, even if a contract includes a clause like this, companies can't typically walk away without paying royalties and similar fees due to obligations related to previous sales. Morals clauses are also often broad in scope, which can be tricky in terms of being held up in court and justifying one party breaching the contract. It is also especially challenging when the contract involves "art" and the party who is alleging breach of contract is claiming that the morals clause is inapplicable due to freedom of speech concerns.
On the other hand, criminal convictions—particularly when the crimes involved were egregious—can often provide sway in allowing for the termination of a contractual relationship.
Tortious Interference & Countersuing
Without a morals clause or a criminal conviction, the only way to prevent breach of contract is to wait until the contract is up and opt not to renew it, or start discussing a buyout or other form of compensation that would allow both parties to part ways.
Without a conviction—simply with an allegation—anyone breaching a contract could get sued, and anyone caught interfering with that contract could be held liable for tortious interference. In addition, the company seeking to breach could get countersued if the party whose contract was breached claims that their contract was terminated for "bad behavior," but the same wasn't done to similar parties for similar behavior.
Texas Breach of Contract & Commercial Litigation Attorneys
Ultimately, a company's decision comes down to making a cost-benefit analysis with the assistance of an experienced corporate attorney. When business disputes like these arise, it is critical that you work with a local commercial litigation attorney in order to ensure that your interests are protected. Contact our Brownsville commercial litigation attorneys at Colvin, Saenz, Rodriguez & Kennamer, L.L.P. today to find out how we can best represent your company if you are dealing with breach of contract and/or tortious interference with business issues.
Resource:
noisey.vice.com/en_us/article/xwm8p4/how-easy-is-it-for-businesses-to-walk-away-from-problematic-artists