The Most Effective Defenses For Product Liability Lawsuits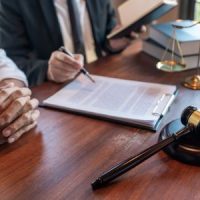 In West Texas, there are plenty of hardworking entrepreneurs who are creating incredible products for people around the world. Unfortunately, there will always be a few customers who manage to somehow injure themselves while using these products. Even the most innocuous and harmless items often become the basis for product liability claims. If you run a manufacturing business, you already know that customers often make all kinds of ridiculous claims.
While some of these claims may be laughable, facing a product liability lawsuit is a serious matter. In order to protect your company and your reputation, you must rely on a qualified, experienced defense attorney. Ideally, you should search for an attorney who specializes in product liability defense. With the assistance of a legal expert who can use the best defense strategies, it becomes much easier to dismiss these ridiculous claims and get back to business.
Choosing the Right Strategy  
Before your attorney chooses a defense strategy, it's important to understand what kind of product liability lawsuit you're facing. There are three different reasons a plaintiff might file a product liability lawsuit:
Negligence
Breach of Warranty
Strict Liability  
Each type of lawsuit demands a specific, targeted defense strategy. With that said, here are some effective defense strategies:
The Injury Was Caused By Something Else: Perhaps the most straightforward strategy is to argue that the injury was caused by something other than your product. This can be very effective if your attorney can use strong evidence to support your claim.
The Injury Could Not Have Been Predicted: As a product manufacturer or designer, you can only do your best to imagine how someone is going to use your product. If someone has used your product in a completely unreasonable manner, you will not be liable for their injuries. For example, a chainsaw was never intended to cut a slice of bread at a bakery – so anyone who used the product in this manner could not claim that you're liable for their damages.
They Knew the Risk: You can also argue that the plaintiff "assumed the risk" inherent with your product when they picked it up and started using it. For example, someone who straps on a snowboard and rides down a mountain should understand that there is a risk associated with this activity.
They Were Negligent: Texas adheres to a "modified comparative fault rule." This means that if the plaintiff is more than 50% responsible for their own injuries, they cannot recover any compensation. If your attorney is able to show that the plaintiff was 51% responsible for their own injuries, the case will be dismissed.
Reach Out to a Qualified Product Liability Defense Attorney  
If you're ready to make a positive choice for your business, reach out to Colvin, Saenz, Rodriguez & Kennamer, L.L.P. at your earliest convenience. We've been helping businesses and entrepreneurs in West Texas for years, and we know what it takes to win a product liability lawsuit. With our help, you can protect your business and your reputation. Contact our skilled Brownsville product liability defense attorneys today for help.
Resource:
statutes.capitol.texas.gov/Docs/CP/htm/CP.33.htm