Texas Supreme Court Reinforces the Importance of the Contract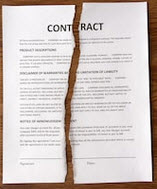 The Texas Supreme Court recently made an important decision concerning oral representations made after two parties have already entered into a formal contract. Ultimately, the Court's decision was that a party may not justifiably rely on oral misrepresentations made by another party when those misrepresentations are already contradicted by the terms of a contract between the two parties. The decision confirms that a party must rely on transaction documents and material representations as opposed to any discussions that occur after said contracts and material representations.
The Case
The case involved a franchisee Carduco, who entered into a contract with franchisor Mercedes Benz. The existing contract between Carduco and Mercedes-Benz indicated the Carduco could only run its dealership in Harlingen, Texas. Carduco, however, alleged that Mercedes-Benz made express oral representations the Carduco could move its dealership to McAllen, Texas. When Carduco made a formal request to relocate to McAllen, Mercedes-Benz denied the request. Carduco sued Mercedes-Benz, and the jury awarded damages of more than 15 million to Carduco, as well as punitive damages of more than 110 million against Mercedes-Benz.
The Texas Supreme Court reversed the Court of Appeals, indicating that Carduco—and any other party—cannot rely on oral representations from the company when its written contract expressly contradicts those oral representations, i.e. when that contract states that the party had no right to relocate. In doing so, the Court confirmed that terms of the contracts themselves contradicted the alleged oral terms and therefore Carduco's reliance on the oral terms was unjustified. 
Fraud Claims & Misrepresentations in Contract Law
When it comes to contract law, in order to prevail on a fraud claim, you must have justifiably relied on a factual misrepresentation. In this case, because the initial, existing written agreement only approved and identified Harlingen as the only acceptable location, Carduco could not legally rely on a change without first obtaining written consent from Mercedes-Benz. When a written agreement directly contradicts an alleged belief—whether that belief was articulated verbally or not—justifiable reliance is negated as a matter of law.
Consult an Experienced Texas Contract Attorney
When you run a business, it is crucial that you work with attorneys who regularly work on contract issues and understand the importance of those terms regarding reliance and resolving any disputes. These terms very clearly, always enumerate the rights and responsibilities of each party.
Colvin, Saenz, Rodriguez & Kennamer, L.L.P. offers the very best in legal contract services here in South Texas. Our Brownsville breach of contract attorneys have significant experience in not only helping companies resolve contract disputes, but in assisting companies, from the outset, in ensuring that favorable terms are included in their written agreements and that any changes the need accomplished are properly done. Contact us today to find out more about our services.
Resource:
forbes.com/sites/joycemazero/2019/03/25/the-contract-is-the-contract-reinforced-by-recent-texas-supreme-court-decision/#267daafa70aa